This branch stands out due to its tough environment and the effects of the environment on various applications. Corrosion and changing influences of the weather subject the materials to an enormous strain. Only extremely robust designs that have been built for these adverse conditions can meet the corresponding requirements for these special application conditions. This is proved by the special DNV acceptance for our numerous products.
RUD ROV-HOOK.
Developed for use with work class ROVs (Remotely Operated Vehicles), which are used for subsea construction work in the deep sea among other things. ROVs have two functional arms which can be used for pulling, pushing, turning and even operating tools. Different grippers can be connected to the arms for this.
Tested safety of 4:1
100% crack tested
Simple mechanical safety interlock
Outward-opening, automatically closing safety latch
Can be used with all common grippers
Special, robust design for subsea application
Optimised surface properties for more flexible application
Product details
Our DNVGL-approved products at a glance.
Economical, reliable and safe: With a comprehensive range of slings with DNVGL approval, RUD is your competent partner for ship and offshore applications.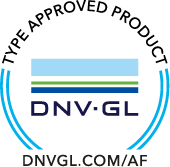 Product details
PPE lifting equipment.
PPE lifting equipment does not mean lifting points in the conventional sense. It serves as attachment points for personal protective equipment (PPE) in accordance with EN 363:2008, which can be hooked in following assembly of the attachment point. These attachment points can also be attached permanently to a construction for the attachment of personal protective equipment.
Lifting point rotatable through 360°
Tested and certified by the PPE special division of DGUV
Non-removable special bolt
Product details
Contact the RUD Team!
Please use the contact form for further questions about our products and service features.
Our Team will be pleased to help you. Just call us or send us an e-mail.
Contact